All professionals at Franklin Dental maintain the highest levels of accreditation and pursue ongoing education to stay current on the latest trends in dentistry. Read on to learn more about our staff's experience and training.
Joshua D. Stevens, MD DDS
General Dentist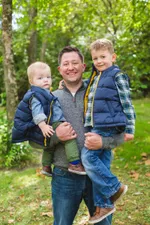 Dr. Joshua D. Stevens is a native Hoosier, growing up in southern Indiana. He completed his undergraduate degree at Olivet Nazarene University in Kankakee, IL, graduating with Magna Cum Laude honors in 2005. He received a Master of Science degree in Biology from IUPUI in 2006. His Doctoral studies were completed at Indiana University where he received a Doctor of Medicine (M.D.) degree in 2011 and a Doctor of Dental Surgery (D.D.S.) degree in 2014. Dr. Stevens was given membership and inducted into the Omicron Kappa Upsilon dental honor society during his final year at Indiana University School of Dentistry , representing the highest achievements in dental scholarship, professionalism, and ethics. Dr. Stevens has also completed extensive education and training in Intravenous Sedation at USC School of Dentistry in Southern California .
Dr. Stevens has practiced dentistry since 2014 on the southside of Indianapolis. He strives to provide superior dental care in a relaxed and comfortable environment. His wife, Kristin, is also a dentist and currently practices on the southside of Indianapolis. They have two sons and a daughter. In his free time, Dr. Stevens enjoys to travel, golf, and fish.
Ashleigh C. McClure
Practice Manager
Ashleigh McClure is a Practice Manager who works with Franklin Dental to support staff and ensure patient satisfaction. She believes that if you do the right thing for the right reason, you can truly have an everlasting effect on people and help to change their lives for the better. Kindness goes a long way.
Ashleigh has worked in 3 local dental offices as well as worked with the largest staffing company in the nation to support their logistics division. She has supported dentists, their teams, patients, and local clients. She is certified in First Aid, OSHA and HIPAA compliance with an emphasis on utilizing interpersonal skills to build trusting, lasting relationships.

Ashleigh holds a Bachelor's Degree in Healthcare Administration from IUPUI. When Ashleigh is not working, she enjoys spending time with her spouse, friends, and family. She enjoys hiking, crafting, and revamping old items into new.